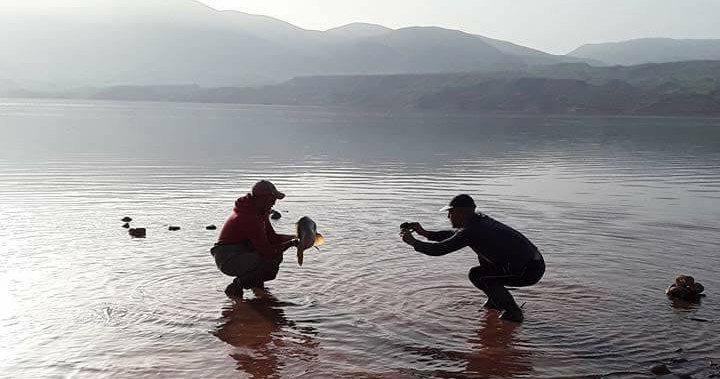 ​I've had my eye on Bin el Ouidane for quite a few years now. The main thing that had stopped me from going in the past was the amount of small fish. The like looked incredible but catching 100 small commons with one or two maybe above 10kg wasn't enough to convince me it was worth the effort so I just stuck to the public lakes and rivers in France for my fix of mystery and freedom that I've always preferred.

When Michael Johansson (and Hamid Ouallam) took over the fishing rights in 2016 I decided to look again and I noticed there seemed to be lots more reports of big fish coming out. I started to investigate properly and sure enough the reports were genuine, Bin el Ouidane was indeed producing good numbers of 20kg fish, it was time to go and see for myself...
I was already 99% sure when I saw a Morocco Carp post on fb saying they were opening up a huge new area of the lake, the thought of fishing and exploring 1000's of acres of virgin water had me buzzing and I contacted Sam Jefferys immediately. After a bit of confusion due to my email account filtering out Sam's reply and mild panic setting in thinking I was going to miss out, everything was sorted and we had booked ten days at the beginning of March.

I told my mate David Durham and he took about 5 seconds to decide he wanted some of this too! Booking amended, two anglers and one non angler are heading out to Morocco in a few weeks time. Surely it can't be that different to fishing any other big lake? Braided mainline, strong mono leaders, big hooks, rocks for leads and 30mm hookbaits have become my basic starting point over the years. The main kit, boat, echo, bed, rods, net, mat, cooking equipment etc are all supplied. It's worth mentioning the boats are the vortex ones, I've had loads of inflatables over the years but none have been as good as the vortex! The rods are really nice with a soft top section, perfect for playing fish in the boat, the tents are 100 times better than a bivvy and basically everything that's supplied is more than good enough.
We flew out early morning and landed in Marrakech around lunchtime. We were met by a guy called Joseph, he takes care of the transport to and from the lake, lovely guy, speaks good English. The drive to the lake is about 3hrs and spectacular, the excitement builds and builds as you climb up the mountains and then all of a sudden you're looking down onto the lake, a breathtaking sight!
Another ten minutes and we pull up at the hotel. Great warm welcome, it's genuine, the people are really happy to see you and ever so helpful. We decided to have a meal before heading down to the lake. The food was really good. Finally we were ready to go fishing...
Sam Jefferys had been fishing the lake the week before us and I'd spoken to him at the end of his trip and asked if it would be possible to take over the swim to start with as it was near the hotel and gave us a chance to get sorted for a few days before maybe heading over to the newly opened area, he very kindly arranged it and so we were driven the short distance down to the already set up camp by Simo and his team.

The latest reports were good! The vortex owner Arjan and his mate Mick had been posting live fb updates leading up to our trip and had been catching plenty of fish upto 40lb and Sam had also had some good fish from the hotel bay area. Fish were crashing out all over the place, we could see Arjan and Mick's camp about 800yds away to our left and also someone set up way off to the right of us.
I'm a slow burner on long sessions, it takes me a few days usually to really get going (sometimes I don't even get going these days) and even though fish were very active and could well move away from us I still felt in no rush. Dave was out in the boat and within an hour had a couple of rods dropped in 6-7m (20-25ft) while I was still sitting there just soaking it all in. I did eventually get one rod out there before dark, sam had left a marker at about 150yds so I dropped a rig in the area.
No fish that first evening but at first light Dave had a take and landed a pretty common of about 20lb quickly followed by another about the same size. I needed to get my arse in gear and made up a second rod and quickly rowed out to my right where fish had shown.
The echo sounder showed a gulley going from 10ft down to 33ft. The fish were coming from 20-25ft so I came closer to the bank until I was in the right depth and then dropped my rig down followed by a few handfuls of maize and boilies before rowing back to the bank. It couldn't have been there for much more than an hour when I had a really savage take that literally scared the life out of me!
It felt like a really good fish which initially had me a bit confused as I was half expecting it to be a small common. We learnt quickly that it's really important to use the boat to avoid the line being damaged on the rocks but at this point I hadn't realised that and continued to play the fish from the bank. It kited across the front of us swimming to the left and my braid cut into a big lump of floating wood which then snagged on my other line, nightmare scenario.
The fish was all of a sudden up on the surface about 20yds out and very gently and patiently I managed to gain the last few yards needed for Dave to net her.

We played every other fish from the boat after that and lost none. Very important or you will suffer losses and most likely it'll be the bigger fish too. I was lucky on that occasion.
I hadn't seen the fish but had already figured it was considerably bigger than 20lb. I quickly chewed through my leader and got both rods and the lines out of the water whilst Dave was stood in the lake shaking his head, saying I was a jammy toad. I was indeed, my first African carp and at 23kg it was a few ounces under 50lb. So much for 100 fish before a biggun comes along !
The rest of that first day was spent relaxing and enjoying the sunshine, I had another fish in the afternoon and as the sun dropped so did the wind and all went quiet. We sat in front of our camp, already sunburnt, typical Brits, and warmed up our tagines. Did I already say the food was good? By the time darkness fell we were shattered and decided an early night and early start was the best plan.

I woke up at about 5am and could hear fish, Sam was still snoring her heart out bless her but Dave was already up so I got up and put the kettle on. He said the amount of fish showing was crazy and within an hour or so as the sun rose above the snow capped mountains in front of us, we had already seen an incredible amount of fish. The wind picked up again then suddenly one of my rods was bending double in the rests and the fox alarm was howling for attention. Another decent fish just under 30lb. Happy days.

The rest of the day was spent netting fish for Dave as his heavily baited area came alive and by the time evening came round he'd had another 6 fish including a perfect looking 40lb+ common. As night fell, the pattern was emerging. Catch fish all day then eat and sleep peacefully then up at first light, make a coffee or two before the action started again. Does it get any better ? I hate catching fish at night these days, it's too stressful lol! Daytime action in the Atlas mountains with the sun beating down whilst your mates are all working hard in the miserable northern European winter... We felt like we'd died and gone to carpy heaven.
The weather was due to change however, with two days of cooler rainy weather forecast and during this cooler spell most of the fish that had been in our area drifted away. Some of the fish we'd caught in the first few days were milting heavily and we realised later in the session that they'd actually probably spawned a bit during this cooler weather.

I then blanked for three days although Dave still managed the odd fish but the fishing had definitely slowed down and we considered a move. It was always my intention to move and go exploring, even before we arrived I'd discussed it with Dave and Sam about our opportunity to be amongst the first people to try the new ahansal bay area.

On the Sunday we decided to have a walk up to our left and see what the options were on the other side of the huge Aghanbou island. From our swim it looked about 20-30 minutes walk... 1hr later we had made it! The island itself is bigger than most carp waters. Conditions felt very different in this part of the lake and we could see another camp set up in base camp bay so we walked another few hundred yards to see how they were doing.

The two Austrians were wrapped up like it was winter and although they'd had fish including a perfect fully scaled mirror, they hadn't had any bigguns and as we wished them success and headed back to our own camp we felt we were already in the right area and the fish could well come back to us with the weather set to improve again so we decided to stay in hotel bay for the last 4 days and save the exploring until the next trip.

We had already decided that there would be another trip.
Once the decision to stay had been made, it was time to give it maximum effort for the last few days. I found a new spot, a plateaux with 25-30ft of water on top surrounded by 70-80ft of water. It was over 500yds from the bank but had to be worth trying. The water was rising due to snow melting and the big rivers were flowing hard into the lake at either end. Even though the ahansal river was probably a good mile from the plateaux, I still had my eight ounce lead dragged off the spot during the night!

I repositioned it again and this time used a rock to hold it in place. The other rods were producing fish in the 20-25ft depths and although we both tried some deeper spots between 30-50ft (10-15m) we didn't have a single take from these depths. Clearly the fish were comfortable in this depth and although it will always vary from one month to the next it shows how important it is to place the baits in the right depths on these big waters as you could easily blank if you don't pay enough attention.
Exactly as we'd hoped for, as the temperatures climbed back up, the fish started to return to us and the fishing got better and better right up until we packed up. We finished the session with nine carp on our final day culminating in a double take literally minutes before we were due to wind in. Dave's was about 10lb and mine turned out to be another cracking fish of 45lb! Jammy toad indeed.

Final tally was 37 bites and 36 fish landed with several 30's and 40's. Simple rigs, long mono leaders and pretty much any hookbait combinations worked for us. A lot of the fish have never been caught and go quite rigid when in the net or when you touch them so extra care must be shown when picking them up in the net as the fins are sticking up and will get caught in the mesh! Also the hookholds were often messy, absolutely nailed with occasional double hooking so again show the fish the correct level of respect and be careful when removing the hooks. Tin snips or wire cutters are a must, if the hook has gone right through then cut the point and barb off rather than cause mouth damage trying to force it back through!
In summary, the whole Moroccan carp experience was even better than I'd imagined. The food is good, thought I'd mention that again. The fishing was kind to us and I'm sure it's not always gonna be that easy but there are clearly thousands of carp in the lake. The wild dogs are quite noisy at night but it didn't bother us, be kind to them and feed them! The guides will do their best for you but it helps if you can speak some French! We did have a little ray of sunshine come into our lives after a couple of days, Grant Downward had gone out there to do some guiding, he's a top lad and added even more positive energy to an already good team. The hotel is fine and if you want to get off the lake for a night or just go there and grab a shower it's no problem. Basically it's a fantastic wild fishing adventure with the safety net of an organisation in the background if you need them.

We can't wait to go back, see you again soon Bin el Ouidane