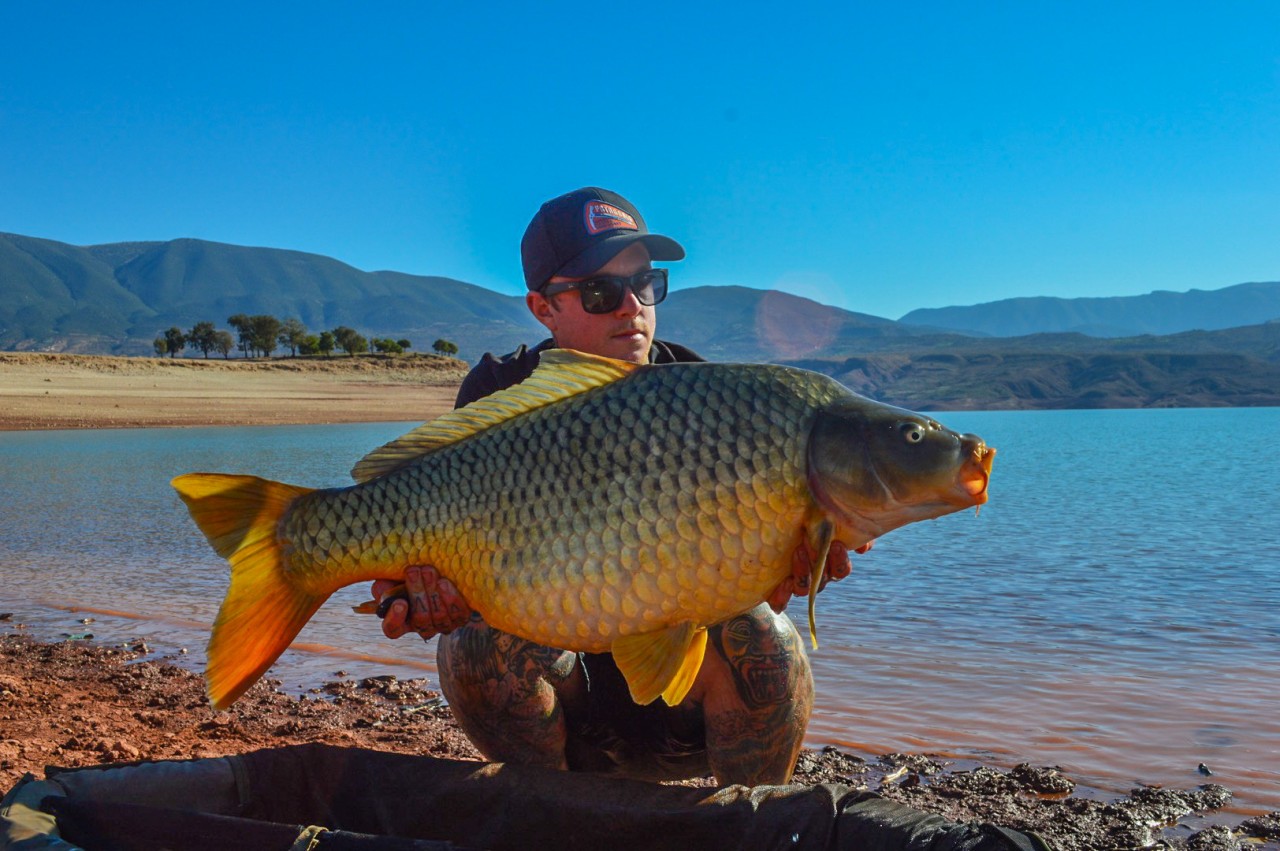 It was my first trip to Morocco, or be it even Africa. I never thought I would be visiting there let alone for fishing purposes.
The whole booking process couldn't be easier, with super cheap flights from the UK to match. I booked about a month before and got return flight from London for £41.
I stumbled across a few photos from Sam Jefferys's on a carp forum and I dropped him a quick email. He directed me to the morocco carp website and answered all my queries to surely the point of annoyance when I was asking about hook patterns and braid over mainline etc, but he replied nevertheless. He as far as I'm aware, from my hours of internet research has spent a lot of time out there on the lake, so if your in doubt his contact details are on the website.
So with all the expensive gear like reels, alarms and camera packed safely into to hand luggage, and my checked in hold-all full of boilies leads and clothes off I went. (There wasn't any issue at British or Moroccan security check with any of it - just had to simply open it up and explain what it was for and they were safe.)

The day before I left I had an email from Mike out there who gave me details and confirmation of where to meet him upon touching down in Morocco. Traveling alone it was nice to know all the details pre flight. He was on time and with no hanging about we hit the 3 hour venture to the lake. Time actually didn't feel that long as I was soaking up the views - slightly different to a 3hr journey in the UK.

We stopped at a peak on the road to admire pretty much the whole lake. At this point the excitement levels were at a new high.
We stopped off at the hotel which is literally 5 minutes from the bank side. I grabbed a quick bite to eat and drink then it was down to the lake to start an excellent weeks fishing. (I would also recommend anyone to stay the final night in the hotel – I didn't plan on doing it, but did in the end and I was feeling fresh on the flight rather than stinking of scopex and slime. I doubt the bird next to me as I write this would of appreciated that, but who's knows!
I am someone who was used to fishing 10 – 20 acre lakes in France so you would think the size of water would be daunting, but in fact it was the opposite. I settled for a swim known as Steffans point, and I had plenty to go at.

Although I was aware of there being other anglers on the lake, it wasn't possible for me see them due not the amongst of bays and size for that matter. I felt like I was in my own paradise. A paradise full of unpressered carp. I was made aware that it wouldn't be a problem to move swims if I wasn't having any joy, or if I noticed fish rolling elsewhere.
The equipment they provide is of high standard. The vortex boats and echo sounder being superior to what Ive previously used elsewhere.(each morning the crew would replace the boat battery with a fully charged one, so you'd never need to worry about how much exploring or how manny fish you catch you wouldn't have to worry about rowing back!
I took the time to find features that I thought would hold fish – and over the course of the week they proceeded to reward me with 25 fish to 32lb. Most were around 25plus but there was one single figure. Even the single figure was a joy in such surroundings and it nothing else it showed me I was fishing the correct depths and rigs were working. I was baiting heavily with maize – easy 5 kilo per time I dropped the rod.
I found during my time there, there wasn't really a bite time as they came both day and night – but, when they came it wasn't one fish, it would be a quick succession of maybe five fish within two hours.
This meant even if the few hours of craziness would happen in the night, it would pay to be prepared. I kept a box on the boat of hookbaits, leads (as I was dropping them on the take) so once I had netted and released the fish, I didn't have to travel back to shore and then back out into the lake to position again. This not only cut down on the time I was out my sleeping bag but also caused the least commotion. It felt like the carp would travel in shoals and feast on the bait as one. I think when I return I'll maybe bait heavily with boilie instead (which they roll out there at a reasonable price so you can pack extra pots of liquid instead!)
I was unfortunate not to get one the scales mirrors that I've seen photos of, but I can't complain at the amass of commons. Normally when I venture France you'd do anything for a common like these over a battered pale mirror.
Each morning the Morocco Carp crew would come by with more than enough food to feed an army let alone myself - I'm a very fussy eater and at home eat like a child - but I always gobbled up what was on offer. Always meat, always fresh bread. They would also check to see if you want anything specific for the following day from smokes to sim cards to save racking up a big bill. (remember you'll need a network unlocked phone)
I had a early flight on my final day meaning we had to leave the hotel at 4am. This seemed no bother and when I got to reception they had breakfast ready for me and the car running!"
The sun sets and sun rises were unrivalled - all in all a very enjoyable trip and I shall be heading back early next year to get amongst the bigger Moroccan carp.